Handling a Wide Variety of Applications
Handling a Wide Variety of Applications with a Special Filter Medium Design
JNC Filter's cartridge filters have a clear grade structure based on filter medium design and quality control.This means that the final filtrate can be adjusted and used for a variety of applications simply by using JNC Filter's products differently.
Example: Filtering the ground components of tea to control the flavor.
The three photos below show cross-sections of the filter media of BM filters that have been used to filter tea.
Each filter collects grounds, which constitute the bitter components of tea.
In BM-03, only the filter medium surface is colored, but it seems that most of the components are collected.
BM-10, however, shows coloring in the inner layer where the finest particles are collected, so it is possible that the components are leaking out in a certain amount.
The coloring of BM-07 is between BM-03 and BM-10.
If you use filters to collect more ground components, the tea will taste milder. If not, it will taste more bitter or astringent.
Changing the filter grade like this allows you to control the amount collected as well as the quality of the filtrate.
This is possible because our filters are clearly designed with grades.
This kind of technology to control the quality of the filtrate is widely used in the filtration processes of paints, inks, coating liquids, foods, and other substances.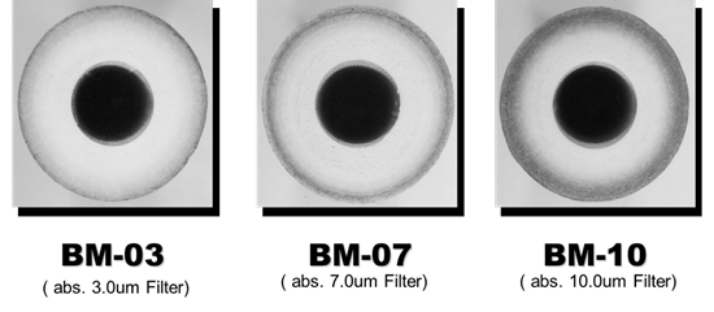 Example: You can use a single filter to perform staged filtration of various particles.
Our BM filter has a structure that can capture large to small particles in each layer by applying a continuous gradient from the thick fibers on the outside to the thin fibers on the inside of the filter layers.
This gives the BM filter a revolutionary function that can provide staged filtration with a single filter.
Figures 1 and 2 below show the results of filtering groundwater from different areas with the BM filter.
The collected materials will vary depending on the groundwater in different areas.
The groundwater in Figure 1 (Company A) shows many large particles with strong coloring in the surface layer, while that in Figure 2 (Company B) shows few large particles with strong coloring in the inner layer. Both filters met the customer's requirements.
We were also able to confirm that in both filters, the thick fibers in the surface layer collected particles of about 10 to 50 μm, and the thin fibers in the inner layer collected particles of about 3 to 10 μm.
We can see that because the fibers get progressively thinner from the surface layer to the inner layer, the size of the particles collected is also progressively reduced.
In this way, BM filters can achieve staged filtration with a single filter while also accommodating a range of size distribution.
Figure 1: BM-05 after filtering Company A's groundwater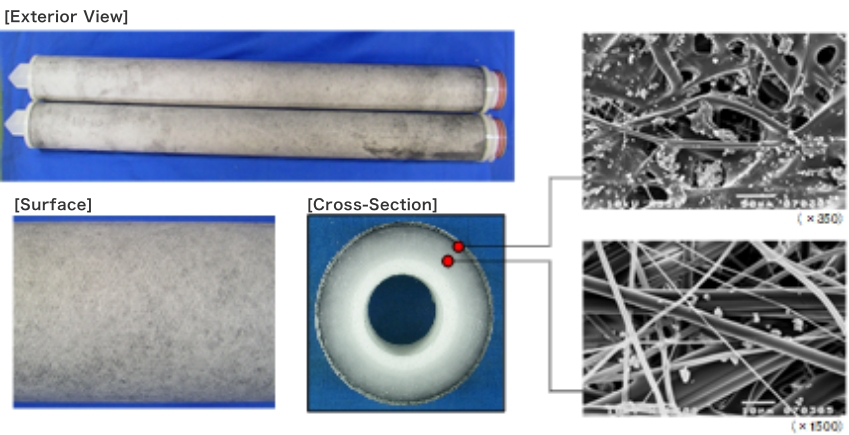 Figure 2: BM-05 after filtering Company B's groundwater